Facebook Badge

My Links!
Thursday, November 24, 2011
Posted by

Susan Pickering
at 11:34 AM
No comments:


Biyay finally bought her first new car! 2012 mazda 3 brand new! :)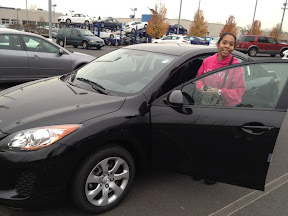 Now my ella's twin,
shadow :)
- Posted using BlogPress from my iPhone
Posted by

Susan Pickering
at 11:27 AM
No comments:


Headin to bheb grandma's house! Brunch! Lol woke up this morning going crazy about vampire diaries! Im almost at the end of the season and it sucks coz i really like the show and i enjoy watching it.
Anywy here right now celebrating thanksgiving! First time that i don't have to work. Then might experience black friday tonight ;) ohhh life is good! I have a lot of things to thank for i feel so blessed, i have people that i love around me and also cares for me thats all i need!
I just recently went for vacation back home and ill tell u more about it next time ;)
For now im trying to make myself busy by blogging till we go to kuya mike's house for another set of meal! Weeee so full -
Posted by

Susan Pickering
at 11:24 AM
No comments:


Labels
accident
(1)
Airforce
(3)
aleve
(1)
angeles city
(1)
anniversary
(1)
arcade
(1)
atlantic city NJ
(1)
august
(1)
azteca
(2)
babyshower
(1)
backride
(1)
baconator
(1)
beach
(1)
beer pong
(2)
berkshire brewery
(1)
Berkshire MA
(1)
bheb
(2)
bingo
(2)
birthday
(1)
blood donation with tattoo
(1)
books
(1)
boracay
(1)
boracay wedding
(1)
born to love you
(1)
brownies with ice cream
(1)
Buhay mahirap
(1)
car wash
(1)
celebration
(1)
chicken adobo
(1)
childhood
(1)
chillin
(1)
christine's bakery
(1)
cinci de mayo
(1)
cleaning make up brushes
(1)
college life
(1)
comfort inn
(1)
coral beach apartment
(1)
coworkers
(3)
crown plaza harrisburg
(1)
Daily Life
(26)
davita
(2)
dialysis
(1)
don't sweat the small stuff
(1)
dreaming
(1)
dreams
(2)
Everyday
(1)
expendables 2
(1)
farewell
(1)
five guys
(1)
florida
(1)
food
(1)
foxwoods casino
(2)
Friends
(2)
frozen yogurt
(1)
gambling
(1)
gifts
(1)
good deeds
(1)
good karma
(1)
gopro
(1)
gopro hero 3
(1)
gym
(2)
hawaiian party
(1)
health screening
(1)
hershey park
(1)
holy angel university
(1)
isla verde
(1)
jaxon
(1)
JelloShots
(1)
jersey shore
(1)
jose roman
(1)
josh
(1)
karma
(1)
kidney walk
(1)
kindle fire HD
(1)
life
(1)
life is good tattoo
(1)
love
(2)
Love Letter
(5)
love quotes
(1)
lucid dream
(2)
macbook
(1)
manhattan
(1)
margaritas
(3)
mario brothers shirts
(1)
mazda 3
(1)
moes
(1)
MOMA
(1)
monthsary
(1)
morning
(1)
movies
(1)
new tattoo
(1)
new york
(1)
nikon j1
(1)
nikond60
(1)
nintendo wii
(1)
Nursing
(23)
nursing school
(1)
nursing story
(1)
NYE
(1)
oak n spruce
(1)
olive oil to clean make up brushes
(1)
One good deed a day
(1)
ong
(7)
orlando
(1)
owenjie
(7)
PA
(1)
party
(1)
party rock
(1)
pasta
(1)
philippine bread house
(1)
pho 501
(1)
Photoshop
(2)
pinay
(1)
Pink VS
(1)
pinkberry
(1)
pinoy
(1)
pinoyfood
(1)
planning a wedding
(1)
plaza azteca
(1)
PR
(1)
pretty rosedale
(1)
Reviews
(3)
rollercoasters
(1)
rosedale
(7)
roses
(1)
roses tattoo
(1)
samsung galaxy s4
(1)
sauna
(1)
seaside heights
(1)
seaside park
(1)
silverleaf resort
(1)
six flags free trip
(1)
starbucks
(1)
starbucks drink
(1)
super mario
(1)
susan rosedale pickering
(2)
swimking
(1)
swimming pool
(1)
tattoo
(1)
times square
(1)
timeshare
(1)
Travel
(3)
trip
(1)
tumblr
(1)
underwater
(1)
universal studios
(1)
vacation
(1)
vacation get away
(1)
Victoria secret
(1)
villagevitality
(1)
weather
(1)
wedding dress
(1)
wedding plan
(1)
wedding venue
(1)
wendy's
(1)
wilmar yaneza santos
(7)
work
(3)
xmas shopping
(1)